Manufacturing facilities
There are 6 (six) production shops in JSC "IOMZ" (total area is about 40 000 m2)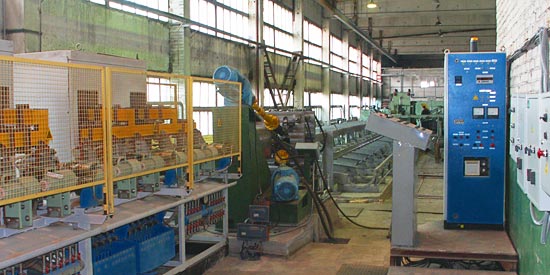 blank production shop;
shop of bars with special surface finish, couplings for shafts connection and fastening elements production;
shop of full range of shafts for electrical submersible pumping system production;
tube shop;
tool shop;
metallurgical shop MSK.
All shops of the plant are tooled up of equipment for metal processing, heat treatment and metal forming:
boring-and-turning lathes;
turning-and-polishing machines;
bandsaw machines;
bars machining line;
straightening machines suitable for straightening up to 0.2 mm of bars full-length;
unique centerless grinding machine, designed by engineers of JSC "IOMZ" on the base of commodity machines, providing high accuracy and high surface finish at long-length bars machining;
metal-cutting machines of extra accuracy (turning machines, millers, spline mills, boring machines, screw-cutting machines, etc.).
unique bell-type electrical furnace for heat treatment of products 11,5 meters long, providing heat treatment with temperature deviation +/-2,5оC all through the furnace.
high-temperature thermomechanical treatment HTMT;
cold pilgering mill;
tube straightening machine;
pipe-threading machine;
sizing mill;
straightening presses;
modern specialized metal testing laboratory.
Production of High-precision bars, Seamless tubes , Shafts for electrical submersible pump units (ESP units), submersible motor, and Sucker rods for oil industry.
Products→
Manufacturing facilities of the plant provides different types of long-length products metalworking.
Service→